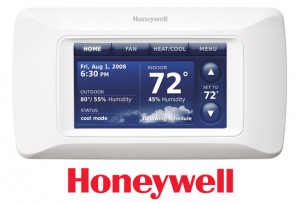 Digital Programmable Thermostats are one of the simplest ways to save on your heating and cooling costs! Our preferred model is the Honeywell Prestige Thermostat.
We can install a digital programmable thermostat at the time of your furnace repair or furnace replacement. It can automatically switch your heating on and off as needed, so that if you're going out to work, for example, it can turn itself on shortly before you come home without having to be on all day. Not only that, but they can put an additional amount of control at your fingertips.
High definition, 4 inch color display with amazing features.
Wireless compatibility – control your system from anywhere inside your home.
Universal Control with remote outdoor sensor.
A programmable thermostat is not just a luxury item, it will save you money in this erratic Colorado climate.
Call Ameri-mech heating and air conditioning for pricing at 303-975-6090
Check out the other air quality products available through Ameri-mech.